On Sunday, the first title of the season could be won.
Okay, it is in a league which started in June – but the nature of the victory is incredibly ruthless. Europe's most northerly top-flight professional team, Fotballklubben Bodø/Glimt, will win the league if they take just one more point this season and, as they are playing after their only challengers, Molde, they may do it without kicking a ball. It would seem to be a foregone conclusion with the team's only defeat coming at the hands of Molde when five of the previous starting XI were missing.
This loss aside, the team have dropped four points from 23 games and responded to their only defeat with three straight wins, including a thumping 7-0 victory over Aalesund. Glimt have been perhaps the most impressive team in Europe in 2020 – but who are the Eliteserien champions-elect?
Who are FK Bodø/Glimt?
Bodø is a small town in the Arctic Circle with around 55,000 inhabitants. It is located on the coast and, having been awarded European City of Culture for 2024, there may be two reasons to visit the Municipality in the future for keen ground hoppers. Being as far north as it is, the settlement averages highs of 16 °C in the summer and lows of -3°C in the winter; there is less than an hour of 'day' at some points in the winter and over 23 in the summer. All of which makes for a tricky climate to play football in.
The club has had to survive for many years on a limited budget but has embraced this, working with a tight-knit group and giving their academy players a clear route into the first team. This season, four youth team products have played for the club with three of them – Patrick Berg, Jens Petter Hauge, and Fredrik André Bjørkan – being key members of the first-team squad.
The team have also given minutes to seven other players under the age of 21 who have been signed from clubs further down the footballing pyramid. The transfer policy has been astute and a lot of signings are well scouted and well coached to the point where, when they move on, they regularly do so for a profit.
One of the many charms of the club is its family ties. A set of brothers, Runar and Jens Petter Hauge, turned out for the club this season and vice-captain, Patrick Berg, is a third generation of Glimt players – his father and two uncles all played for the club as well as his grandfather. Left-back Bjørkan is the son of current sporting director and former player and manager, Aasmund Bjørkan, and former record sale Håkon Evjen followed in his father's footsteps in turning out for the club. In fact, there were no fewer than five relatives of the 2019 squad, that recorded a best ever finish, present in 1994 when the club beat Sampdoria 3-2 in its finest hour.
The Gaffer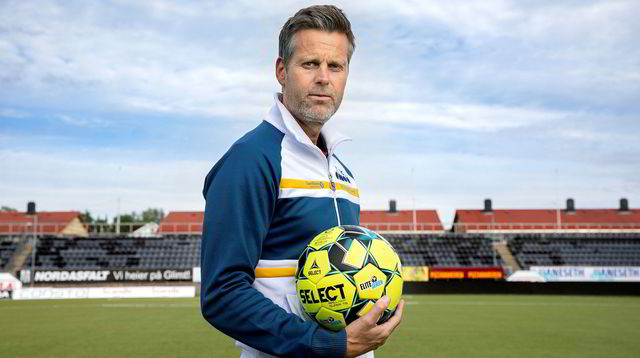 Glimt is the type of club that values people first and foremost and has created an atmosphere that fosters winning. Club captain Ulrik Saltnes said of the club that there was no 'grand-vision' or 'map' that they are just a team that focuses on how they want to play and the results are a bi-product of that. The star players have been on social media this season, joking amongst themselves about not wanting one another to leave – further proof of the players' togetherness and faith in each other.
Whilst Saltnes may have given an insight to how the clubs philosophies, philosophies alone do not transform a yo-yo club into the best club in the country; nor does a good transfer policy. A lot of the credit should go to the gaffer, Kjetil Knutsen. Knutsen was promoted from assistant in 2018 and transformed the on-field fortunes, turning Glimt from a mid-table side whose ambitions were scarcely more than avoid relegation (the team had only returned to the top-flight in 2018) to title contenders.
Knutsen set about changing the style of the team played. The team tend to dominate possession more often than not, moving from 48.6% on average in 2018 to 60%; the team averaged 27.2 long balls per game at a success rate of 52.2% in 2018 and average 28.9 at a success rate of 62%. The increase in both possession and long balls shows a lot about how Knutsen has team playing confidently in possession and are able to move the ball quickly when the opportunity arises – they have had 46 counter attacks in 54 games since the start of 2019, compared to 3 in 30 in 2018.
The tactics have worked wonderfully with the team creating 1.2 big chances per game in 2018 and three per game in 2020 as Glimt have become an attacking juggernaut scoring a whopping 83 goals so far – fifteen more than the next highest scorers and only four away from the league record. The team also only need six points to become the all-time record point scorers in Eliteserien history; they hold the record for points and goals in the second tier of Norwegian football and it would take a brave person to bet against them repeating that in the top division.
The Team
Knutsen has developed a brilliant style of football and has helped developed players into top performers within the division.
They play a 4-3-3 but each player is comfortable in their position. The fullbacks are given licence to roam, create width and allow the forwards to work in tighter spaces more effectively; the centre backs are ball players comfortable of being calm under-pressure in a high line; the defensive midfielder is able to protect his defensive unit and break up the opposition attack; the central midfielders are the perfect box-to-box players who occupy spaces between the lines; and the forwards are a well-oiled machine with different roles each of which compliments the other in one way or another.
One of the many brilliant individual performers this season has been right winger Philip Zinckernagel. The 25 year old came to the club, on their return to the top division, from Danish Superliga team SønderjyskE, where he was a bit-part player. His contract is up this season and he will almost certainly make the move to a top European league – clubs in Germany have allegedly been sniffing around.
Zinckernagel has gone from strength to strength since his arrival; he has 29 goal involvements so far this season and has created 15 big chances. He has 2.2 tackles per game which typifies Glimt's intent to press high and catch teams out. His role on the right side of attack is quite different to his teammate on the other flank. He has 2.7 accurate crosses per game and 1.8 successful dribbles per game; Jens Peter Hauge, who started 18 games on the left flank, had 0.1 crosses per game, 2.6 successful dribbles, and was generally much more involved directly from central areas.
A member of the youth academy, Hauge was outstanding this season and typifies everything Glimt have done so well in the last two years. In Glimt's promotion season, he was used as a right winger to good affect but struggled there in the top division; he was moved to the left wing by Knutsen and there he flourished scoring 14 times and assisting nine more in 18 games this season. Hauge only got his chance after Tunisian winger Amor Layouni left for €1.5m and he took his chance and never looked back. His Glimt career culminated in a goal and an assist against Italian giants AC Milan, a game in which he was so impressive that the seven times European Champions made him their player within a week.
There's no end to the number of players we could mention that make Glimt tick: Striker, Kasper Junker, has a goal every 82 minutes; defender Marius Lode averages a league high 67.7 passes per game; and Patrick Berg's 3.1 tackles per game is third in the league. All three players have their own unique story which makes them quintessentially Glimt: Junker is the clubs record signing and a testament to the work the club's transfer team do; Lode spent most of his career with second division Byrne before making the move north, developing as a player, and earning a first international call-up in November 2020; and Berg is a youth product whose family is Bodø/Glimt through and through.
Where Next?
Glimt will win the title this year barring a miracle and it will be time to move on for a number of players but this does not mean job done for Glimt. In the last two seasons they have lost goalkeeper and captain Ricardo Friedrich on a free transfer, three of their four top scorers from 2019, and chief playmaker Jens Petter Hauge. With Zinckernagel looking likely to leave the club in December, and many key performers attracting interest from elsewhere, it will be a challenge for the team to reach the same level they have this season.
They have already begun the rebuild, however, with Ola Solbakken beginning to show, in glimpses, that he can shoulder the sizeable burden left by Hauge; new record signing Hugo Vetlesen had a goal on his debut; and teenage striker Victor Boniface has six goals in seven starts as Junker's understudy. Along with them, a number of young players have been given opportunities to shine – Sebastian Tounekti has been particularly impressive with his limited minutes scoring in Europe as Glimt defeated Lithuanian side Kauno Zalgiris, 6-1, and again in the 4-2 league defeat to Molde. Whilst it may be a while before we see a team as dominant as this again, it we will not be the last we hear of FK Bodø/Glimt.