The Championship.
The Promised Land for those who love a relegation scrap, and a title race that includes about 50% of the league teams. It's not always the highest quality football, but it certainly has the highest quality of entertainment, drama, and storylines. With the most expensive game in football awaiting two play-off teams, and the top two spots never being a forgone conclusion; it means every Championship season is a thrill. Of the trio of relegated Premier League teams, none look particularly ready to go straight back up. AFC Bournemouth are entering a period of immense change after Eddie Howe's departure, Norwich City look like they could lose their best assets, and Watford – well, they're pure chaos at all times, but they could easily lose their best assets too. With that being said, the transfer window is in full flow for a lot of clubs. As lower EFL sides try to balance the books and bring it masses of players on cheaper wages than the ones they've released, the Championship sides have been a little bit more reserved. Pouncing when the chance is right, but not spending silly money on gambles. So, here are seven of the most fascinating Championship signings so far:
1- Bali Mumba (Norwich City)
The 18-year-old Bali Mumba didn't feature at all in League One last year for Sunderland. You might be thinking, 'Russ, c'mon, an 18-year-old kid that doesn't even start in League One, how is that fascinating?!'
Well…
Mumba has some good pedigree. For the England U18's he's featured 12 times, and during Sunderland's 18/19 League One campaign, he featured four times at just 17 years of age. Sunderland's youth squad have routinely played in the Premier League 2. Across the past three seasons Mumba's made 35 appearances in PL2 Div 2 – some of which came when he was just 16.
Mumba is a defensive midfielder, but with a twist. Standing at 5'4, the Englishman isn't the domineering, physically dominant midfielder that you'd expect in that position – in fact his height could be something that is holding him back. That being said, the player is physically strong, with a low centre of gravity, and a strong core, he's not easy to get the ball off. Sunderland's youth might have lost all but one of their 17 PL2 games this year, but Mumba was a true shining light. He's also capable of playing right back, as well as a box-to-box midfield role. With a keen eye for a pass, and brilliant intelligence when it comes to timing and positioning (to make up for a lack of physicality) then Mumba could blossom into a great midfielder.
He's in the right place too. Norwich City have boasted several youth products of late; from Max Aarons and Jamal Lewis, to Todd Cantwell and Adam Idah. This season for the youngster is about acclimatising to new surroundings, and impressing in training. But the season after (or later in this one) expect to see Bali Mumba playing a bigger role on the pitch.
2- James Chester (Stoke City)
Stoke City were quite appalling last season. A club of Stoke's size shouldn't be scrapping it out in a relegation battle. But with the appointment of Michael O'Neil, then The Potters were able to escape the drop zone with a game or two to spare. The thing that so many relegated Premier League sides do, is sign rather generic Championship players. Whether it's Jordan Cousins, Lee Gregory or Tommy Smith (in Stoke's case, all of them) a squad of these calibre of players aren't going to get you straight back up. The signing of James Chester strikes a different cord though.
Chester has played four seasons in the Premier League across his career, whilst bouncing between the top division and the Championship. Last season he featured 16 times for Stoke City on loan from Aston Villa, and played a part in the clubs survival. The former Hull City and West Brom man has now moved to the BET356 stadium on a permanent deal. It marks one of the better signings to come from Stoke City of late, there is something more ambitious about this signing.
He racked up 1000+ minutes (1,234 to be specific) during his 16 appearances – also recording one assist. Chester played only 34% of Stoke's season, but in that time he helped secure 25 points – that 44% of their final tally. That's a positive stat for the Welsh defender. A 70% tackle-win rate is positive too. Albeit in differing circumstances, but Liverpool's superstar Virgil van Dijk only recorded a 52% tackle win rate.
If you look at history too, then Chester has certainly got goals in him at this level. During his last three Championship campaigns with Aston Villa, he registered 119 appearances – scoring 11 goals in the process. An average of one in 11 for a defender is not a bad return at all.
3- Kieffer Moore (Cardiff City)
Standing at 6'4, Kieffer Moore is a colossus of a striker. Despite his height, the frontman is fairly lean, but strong at the same time. For Wigan Athletic, he proved to be a good goalscorer, with a strike rate of 1:3.6 games. Not stunning, but not poor either. With Wigan's controversial relegation, they've had to sell one of their best assets. Cardiff City snapped up the striker, who had five other clubs circulating it's believed. For £2 million, Cardiff have got a player that could flourish under Neil Harris, and give them the fire power they need to secure a play-off place once again.
At 28-years-old, Moore is no 'spring chicken'; Cardiff City are the 11th club on his CV. It is a CV like few other Championship strikers though. From humble beginnings, the target-man striker started out at Truro City, before spells at Dorchester Town, Yeovil Town, and the quizzically named 'Vikings', saw him power his way into the Football League with Forest Green Rovers, and Ipswich Town. His best goal-scoring form came two seasons ago. For Barnsley, across a season and a half (January 2018 to the summer of 2019), he racked up 21 goals in 51 appearances. That is a strike rate of 1:2.4 games – albeit including a season in League One. Though last season with Wigan Athletic proved he can be a goal-scorer at the Championship level too.
Despite being a 6'4 target man, not all of his goals come in the form of headers, in fact only 33.3% this season were. Six out of the 10 came from his right boot, and a further one came from his left. Showing he's not just a one-trick pony. The five times capped Welsh international (who has netted twice for Wales too) should be seen as an exciting signing for The Bluebirds; with the right service, he can score goals.
4- Callum O'Hare (Coventry City)
If you're looking for the definition of 'versatility', then this is your man. The young Aston Villa academy graduate was loaned across the midlands to last season's League One champions – Coventry City. According to Transfermarkt.com, he featured in a range of attacking positions, from the Second Striker role, to the Left Wing, Right Wing, and to his more favoured Attacking Midfield role.
He spent the entire 2019-20 campaign on loan at Coventry, where the 22-year-old racked up 29 appearances in the league, with a goal involvement rate of 1:4, (three goals, four assists). With a better assist rate of three in seven in the FA Cup, the playmaker has somewhat proved the fact he can be effective in the final third. Out of his 29 appearances, 11 were from the bench. In these 11 subbed-on games, he scored all his three league goals. What does this tell us? An impact-sub? A player with a burst of pace and a creative spark that can change a game when he comes on.
He's signed permanently for Coventry City this summer, after being released by Aston Villa. It's understood that there were a number of League One and Championship clubs swarming around the attacker.
5- John Obi Mikel (Stoke City)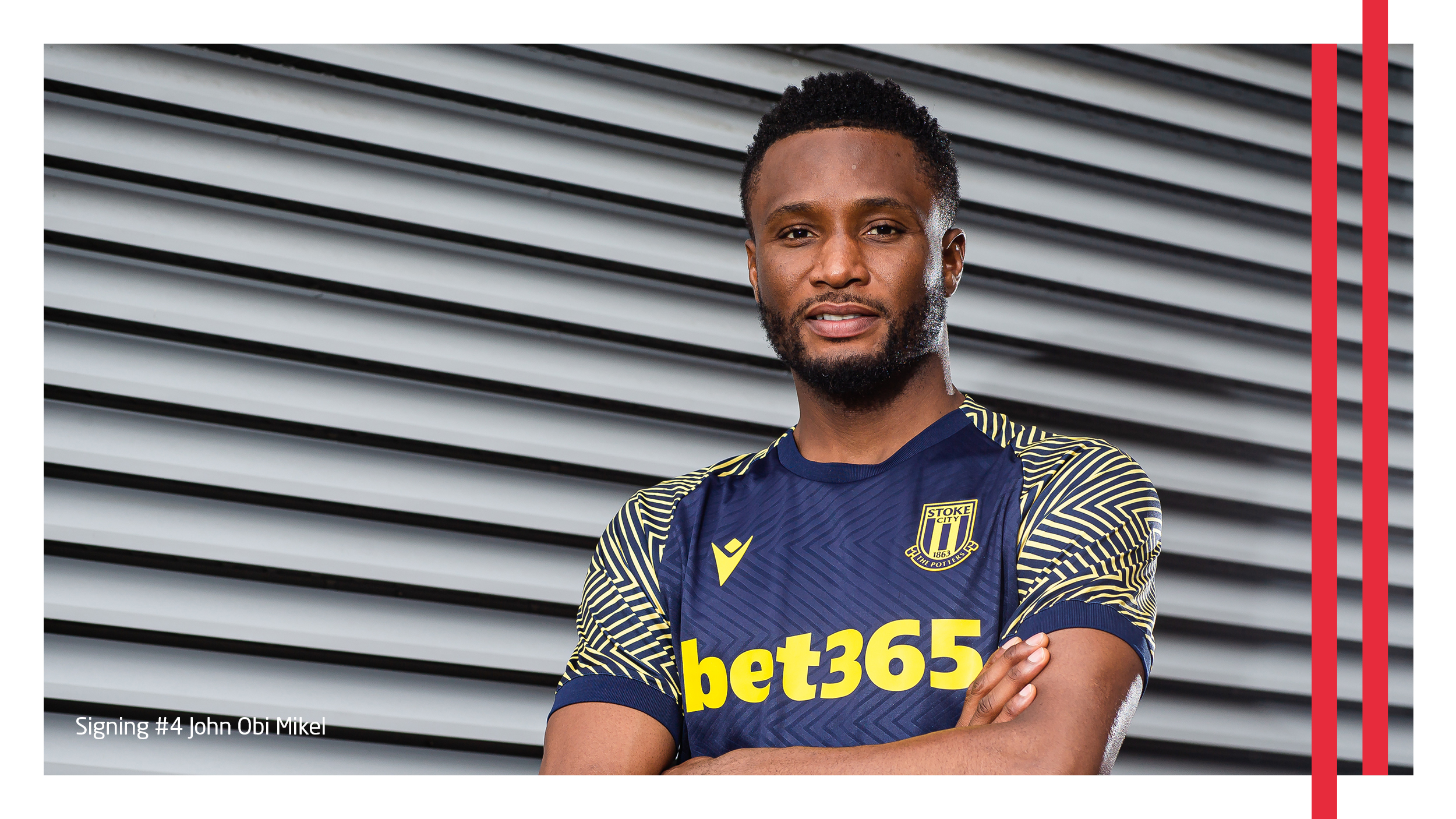 This could be a real coup for The Potters.
At 33-years-old, the former Nigeria captain might've retired from the international stage a few years ago but he's still going relatively strong at club level. He's a Chelsea legend, who spent 11 years at the club, winning two Champions Leagues, one Europe League, two Premier Leagues, three FA Cups, and one League Cup. Since then he's gone on to feature for Middlesbrough (more on that later), and Trabzonspor. His stint in Turkey went fairly well, until he left the club in March. It's understood he left due to worries over the fact the league had continued during the COVID-19 crisis.
Let's talk about his half-season at Middlesbrough. The 6'2 defensive midfielder featured in 18 games for the Riverside club, racking up 1'600 minutes. It's interesting to note that throughout the 18 games, he played the full 90 minutes 16 times (75 mins on his debut). Furthermore, he went on to captain the side for the final six games, in which they won five and drew one (also worth noting that before he took over as captain they were on a six game losing streak).
Proven at this level, and with a wealth of experience in the game, John Obi Mikel could prove to be a real game changer for The Potters. Leadership is something they've lacked, certainly in the middle of the park. The defensive midfielder should really help this issue out.
6- Chey Dunkley (Sheffield Wednesday)
Another man to leave Wigan Athletic, the centre defender was a fan's favourite at the club. A no-nonsense defender who provides a huge stature at the back, could really boost Sheffield Wednesday in the defensive side of the game. After finishing 16th in the Championship last season, the side conceded 66 goals in 46 league games, thats certainly something that could be improved on. With the signing of Chey Dunkley, they've bolstered that defence. Likely to line up alongside Tom Lees and/or Dominic Iorfa, the new man could be the perfect addition.
The 28-year-old featured 107 times in the league for Wigan Athletic across a three year spell. It is certainly worth noting that Dunkley is a big threat in the opposition box too. From 26 appearances last season, he racked up a goal tally of six – quite impressive for a centre back. Against Charlton Athletic in September he even scored both goals in a 2-0 win. You might be wondering why he only featured in 26 of the 46 league games that season, well, there's two reasons: one being the fact he got two suspensions during the season which totalled him missing three games. The defender also suffered a severe leg break in February which ruled him out for the rest of the season. This injury saw Wigan have an upturn in form which nearly lead to their survival even with the 12 point deduction. Whether the two are linked, it is hard to say. But there is no doubting that Dunkley is a solid defender.
7- Charlie Goode (Brentford FC)
The 25-year-old defender joined Northampton Town last summer from Scunthorpe Town after impressing during a loan spell in the 2018-19 campaign. The free transfer marked excellent business for The Cobblers, who went on to see captain Goode lift the League Two Play-Off Trophy at the end of the season. A free transfer for a player who goes on to captain your club to a trophy win is always good business – but that's been amplified by his move to Brentford.
Brentford suffered a different fate in their play-off final, and are expected to start losing their prize assets left, right and centre. But they've stuck to their policy when it comes to transfers IN. They signed the Northampton man for an undisclosed fee, but it's understood to be a record incoming transfer fee for The Cobblers. He featured in 39 league games for the League Two side last campaign and the stats prove he had a good season.
With a tackle success rate of 80%, a duel win rate of 73% and an aerial duel win rate of also 73%, Goode has proven himself to be comfortable both in the air and on the turf. He also had 5 goal involvements in the league too. Three goals scored, and two assists. Of his three goals, only one was scored via his head – this proves that he can be a danger in the opposition box too.
There can be no doubting what a step up it'll be from League Two's 7th place side, to the Championship title race. He may struggle at first, but at 25-years-old, he's still got plenty of time to gain that level of ability to flourish in a truly tough league.
Dear Reader:
There we have it! Seven Championship transfers that are fascinating for the upcoming season. Are you a fan of one of these clubs, or even a fan of a club that one of these players have left, let us know what your thoughts are in the comments below, or even on Twitter – @FanHub_Football (or even me, at @ManOnFutbol). Is Chey Dunkley a massive fraud? Is Charlie Good the defensive firepower that Thomas Frank's Brentford need? Is Callum O'Hare going to be the next Jack Grealish?! Tell us what you think!
(Images used in thumbnail are from: https://www.ntfc.co.uk/news/20202/august/goode_190820/ & https://www.instagram.com/stokecity/?hl=en)